Gift Global Social Emotional Learning (SEL) To A Teacher, Parent, Or Student Today
Teachers, students, and parents deserve Global Social Emotional Learning (SEL). SEL for mindfulness, empathy, understanding, and compassion. SEL that weaves math, literacy, empathy, and our shared humanity. Sponsor a school, educator, parent, or student today.
Gift Card For Global Social Emotional Learning (SEL)
$25.00 – $5,000.00
Additional information
| | |
| --- | --- |
| Amount | 25, 50, 75, 100, 200, 500, 1000, 2000, 3000, 5000 |
Only logged in customers who have purchased this product may leave a review.
Sponsor Captivating SEL In Schools & Homes
Amazing Videos
Hook students at the beginning of any class with captivating videos from all over Earth.
Authentic
Respond to "how does this even matter in the world?" with powerful real world stories.
Learning Mindset
Confront biases with students. Our stories ask BIG questions. Build trust. Learn together.
Diverse Stories
Stories about real people around the world. Everyone belongs. Everyone feels included.
Integrated SEL
Weave SEL, math, and literacy together. Make SEL possible every day.
Go Beyond Words
No narration, no subtitles. Videos with no language barriers. Inspire awe!
Smooth Lessons
Our lesson plans are 1 page. Short and sweet. Plan class during your morning tea.
SEL With Depth
Culturally inclusive. Compassion and equity focused. Make your SEL program beautiful.
WORDLESS VIDEOS THAT TEACH CURIOSITY BEFORE JUDGMENT
Fuel Curiosity & Compassion In A Captivating Way! Kick off class by moving from head to heart.
Our wordless videos are created without narration for two main reasons. Classrooms can use them anywhere in the world, without language barriers. And research shows that wordless stories help viewers flex their empathy, curiosity, and compassion muscles -- while improving learning outcomes.
Learn deeply through experience, reflection, and important conversations!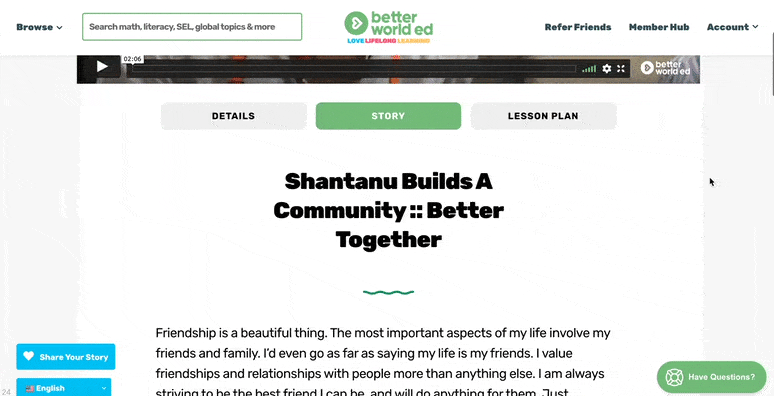 REAL WORLD STORIES & QUESTIONS
Real-world math and literacy challenges that make SEL feel natural, meaningful, and fun -- while reinforcing academic learning curriculum goals in a cross-disciplinary way!
Each wordless video is paired with 2-4 stories about our new friend's family, backstory, and work. Each of those stories has multiple word problems that tie to SEL, math, reading, and various written and verbal communication goals you have! Standards aligned.
DYNAMIC "PRESS PLAY" LESSON PLANS
Creative ways to bring together social, emotional, and academic learning -- in the classroom, for homeschooling, and in your community!
Our Lesson Plans are intentionally designed to engage students, educators, and parents. Support students in making an impact in their lives and communities, and meet your academic goals too. And every lesson has classroom, home, and community project ideas. Bring meaningful classroom conversations to every dinner table. SEL is for all of us adults, too.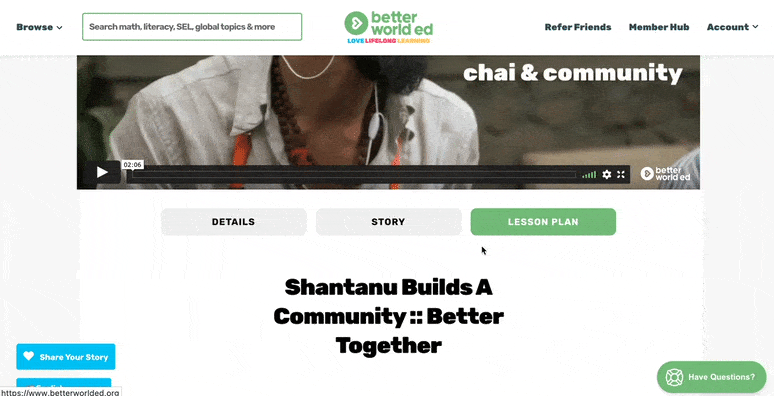 Gift schools & homes the magic of Global Social Emotional Learning
Gift education that's global in every way. Give a school, teacher parent, student, or anyone you care for the gift of Global Social Emotional Learning (SEL)!