Press, Features & Better World Education Media
We're grateful to be featured in awesome education media! Interested in featuring Better World Ed in your next article, podcast, research report, event, or panel? Reach out! Or check out this first post by Isabelle Hau.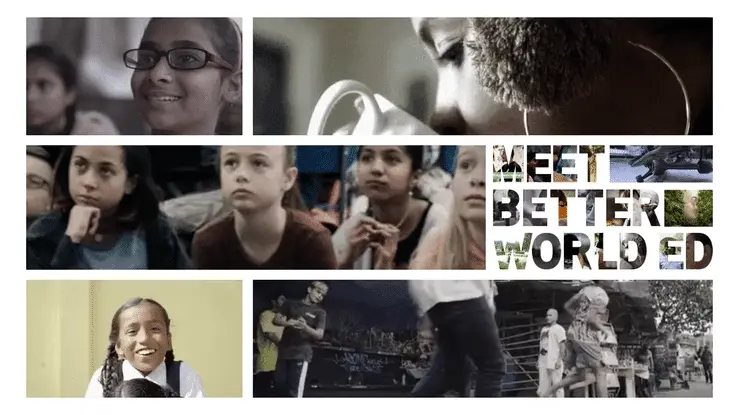 Education Media & Features To Humanize Learning
Isabelle Hau shares an important perspective in EdSurge: Education Has a Three-Headed Crisis. Mental Health Is Only Part of It. Check out this important and timely article — we're grateful to be featured in it.
We all know Social Emotional Learning (SEL) is deeply important for all students (and all of us teachers, too). We know it's not enough to just sprinkle SEL in here and there. We've got to integrate SEL with academics in an inclusive, meaningful, and ongoing way, which is clearly shown in research. But how? After all, none of us want SEL to become just another box to check off the list.
We all want our children to grow up learning to be kind, empathetic, and globally aware. As children spend so many of their waking hours in school, it is critical we focus on developing these values, skills, and competencies in the classroom. That's where Social & Emotional Learning (SEL) comes in.
From Rob Schwartz, CEO of TBWAChiatDay NY:
Listen in as we unpack Abhi's unconventional, travel-happy life. Hear about the incredible content he and his team create. And learn more about his unique and disruptive educational force called BetterWorldEd.org, that is actually living up to its name by making the world better.
Excerpt: In our world today, it's critical that students become globally minded with the capacity to understand one another and to live with compassion. Growing up in the U.S., but with regular visits to family in India, I often wondered how other humans lived around the world. While I had some global learning sprinkled in my schooling, it wasn't nearly enough to satisfy my curiosity and desire for deeper understanding.
Excerpt: The organization creates short day in the life videos of people from all around the world and the videos are used in classrooms to spark students' curiosities about new places, people, and ways of thinking, while incorporating academic objectives like math and science. With Better World Ed, Wayne has traveled to 8 countries throughout Asia and the Americas creating content for them over the last few years.
Better World Ed has put together a free Coronavirus Learning Unit for educators and students, full of educational media. This learning Unit discusses why learning about the virus matters, offers videos & resources, has reflection questions, suggests ways to involve your students, and provides a reading list.
From Matt Barnes of The Education Game:
From following an atypical career choice to traveling all over the world, Abhi gives this conversation a new perspective. Matt and Abhi also talk about Better World Ed, a nonprofit co-founded by Abhi that strives to help youth love lifelong learning about self, others, and the world. Listen to the full episode to hear this exciting conversation between Matt and Abhi.
From Thamarrah Jones:
What would happen if we were all genuinely interested in wondering about each other and our stories? Today we meet Abhi Nangia (he/him), the Executive Director of Better World Ed, a 501c3 nonprofit on a mission to humanize learning. In this episode, Abhi and Thamarrah (she/her) go on their own journey of exploration and curiosity about each other, how we see (and don't see) people in our communities, and whether curiosity could be a path to equity.
Dr. Ronald Beghetto talks with Abhi Nangia about how his own sense of wonder about others in the world at a young age eventually led to him creating Better World Ed, a nonprofit that promotes students' understanding about the world through wordless videos that showcase stories about people's lives. This unique approach piques interest, fosters humanity, and creates a space for breaking barriers and dismantling judgment.
From Devin Thorpe:
Abhi saw a problem with conventional approaches to education. "Show me the experiences we're having where kids are really learning to wonder about each other, to care about each other. Practicing that in school is really not happening at any kind of scale with any kind of depth," he observed.
Hear educators & students reflect on wordless education media
Education media to open hearts and minds
Eager to bring education media into the lives of educators and learners around the world? Gift a membership, or even a few!

Starter
Access 20 Written Stories and 20 Lesson Plans that pair with 8 of our Global Wordless Videos!
Bookmark stories & create your own playlists!
per educator per year
(per month, billed annually)

$

20.00 per member

/ year
# Users
more users, lower cost
Standard
Access 50 carefully chosen Written Stories and 50 Lesson Plans that pair with many of our unique Global Wordless Videos!
Bookmark stories & create your own playlists!
Priority Support!
per educator per year
(per month, billed annually)

$

30.00 per member

/ year
# Users
more users, lower cost
All Access
Access ALL 50+ Wordless Videos, 150+ Written Stories, and 150+ Lesson Plans from 14 countries!
Access ALL upcoming and future learning journeys and units!
Access unique lesson plans designed to adapt across ALL of our stories!
Broadest & deepest content diversity!
Best search & browse experience!
Bookmark stories & create custom playlists!
Premium Support!
per educator per year
(per month, billed annually)

$

40.00 per member

/ year
# Users
more users, lower cost