I Am Taniya :: Creating Confidence
A Better World Ed Story
Welcome to a Better World Ed wordless video, human story, and lesson plan: I Am Taniya :: Creating Confidence.
Let's step into a unique human's mind, heart, perspectives, story, and community. Let's explore self, others, and our world in a humanizing way.
Take a deep breath. Let's get started with I Am Taniya :: Creating Confidence.
Click the "lesson plan" tab if you're looking for ideas on how to engage with this story on your own or in a group. If you're eager to start right away and want to create your own learning guide based on the narrative, click the "story" tab or play the video!

Better World Notes for all of us to remember: this story is an introduction to who this human is. It would take years (even a lifetime!) to wholly understand this person, just like it takes us such a long time to begin to understand ourselves and one another.
As we watch the wordless video, let's suspend judgment and strive to practice curiosity and wonder. Let's recognize bias and challenge our assumptions. Let's explore how we might move beyond these assumptions together in a meaningful way.
As we explore the lesson plan, let's remember these are not instructions. This is a learning guide. You can adapt this for your situation, and reach out to us anytime for ideas, too. You can also follow it step by step, if you'd like. Though we believe learning happens in so many ways, and these lessons can be adapted so beautifully by you(th) to create a magical experience. If we adapt, let's just remember to keep the actual story content authentic. These are real humans we're learning about -- let's stay true to their stories.
As we read the written story, let's remember that this person in the story is not representative of a whole culture or way of life -- better world learning means moving beyond generalizations and simple single stories. More on this in the humanity & belonging unit.
We've got to remember that this person is a unique and whole individual with unique, complex, and beautiful experiences -- just like everyone in our own lives and classrooms! We've got to live with ubuntu.
Judgment and bias are both quick to get and hard to get rid of. And both are really pretty boring.
But curiosity? Curiosity is magical.
Learning? Learning is forever.
Curiosity before judgment.
Wonder beyond words.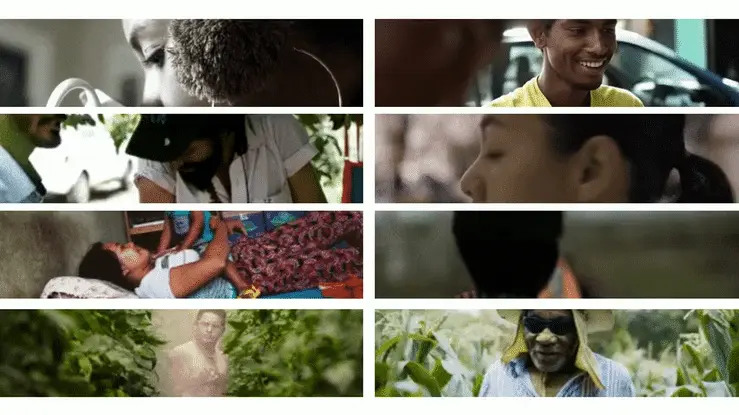 More Better World Resources: Looking for a powerful learning guide for empathy and curiosity practice? Here is a version for early childhood learning. Here is a version for self-guided learning at any age. You can use the lesson plan above in the "lesson plan" tab, or you can try one of these lessons that work wonders for any of the stories on Better World Ed.
Looking for a math focused "all stories" learning guide? Or one on deep breathing? On listening to understand? On how to make chai? Head to your Members Hub for more magic !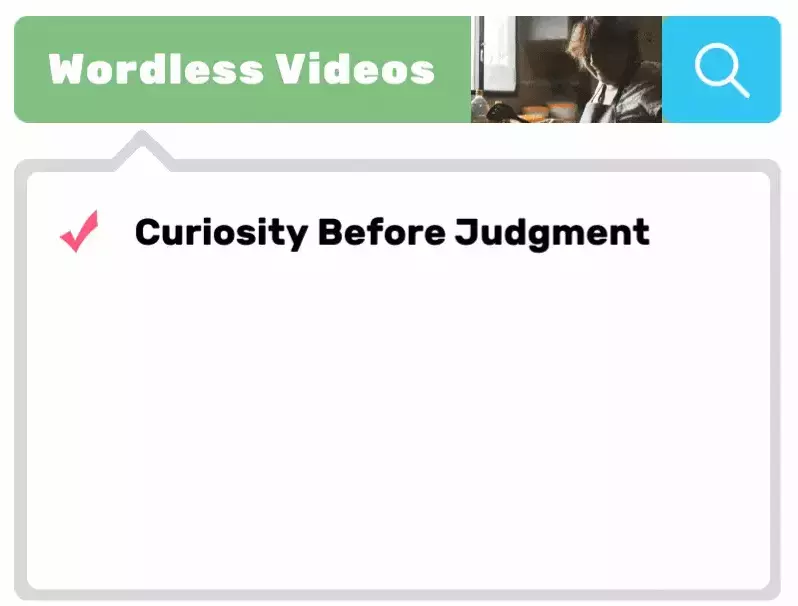 Global Topic
Education & School, Health, Well-Being & Nutrition, Humanity, Belonging, Inclusion & Equity, Movement, Mindfulness, Yoga & Mental Health, Teaching, Learning & Unlearning
Math Objectives
Fractions as division, Multiplying fractions and whole numbers
Literacy Topic
Author's Purpose, Comprehension, Communication & Collaboration, Critical Thinking, Evidence Collection, Inferencing
SEL Skill
Addressing Challenges & Community Engagement, Analyzing Situations, Appreciating Diverse Perspectives & Ways Of Life, Empathy, Understanding & Listening, Perspective Taking & Global Awareness, Reflecting Mindfully, Respect for Others & Character Development, Self-Awareness, Social Awareness, Social Engagement
Social Studies
Community Engagement, Culture, Current Events, Ethnography, Geography, Global Connections, Sociology
I just finished my yoga practice, so you have stopped by my house at the right time! I am about to update my yoga calendar to track that I completed my poses for the day—can you do me a favor and make a mark in that box right there? Thank you!
My favorite yoga pose is called Pada Bakasana. It takes a lot of focus, balance, and I have to control my breathing while I do it. How about you get out of your seat, stretch, and show me what you imagine that pose looks like!
Do you know why this calendar is special to me? It is because I will be in a yoga competition soon! At the competition, there will be many different types of yoga— it sometimes surprises people how much variety there is! With some poses, you have to stretch your arms and reach up to the sky. With others, you bend down to touch the ground. Sometimes we even lie really still on our backs and take deep breaths. Whoever does the poses perfectly at the competition will be the winner. I get so excited when I cross out a date on the calendar because it shows that I am one day closer to my goal.
I bet you have goals in your life too! Tell me, what are some ways that you track them, so you can see how close you are to reaching your goals? How can this help motivate us? What are some other ways you stay motivated?
I first learned yoga at my school here in Bawana, India, about three years ago. I really like yoga because it helps keep people healthy. Plus, it's fun to stretch your muscles! This is why I try and practice every single day.
Is there anything you enjoy so much that you try and do it every day? What are some of your habits that help keep you healthy? Are there any new ones you would like to try?
Even though I aim to practice yoga every day, I usually end up practicing about 20 days a month. If I do this in a month that has 30 days, can you write the number of days I practice as a fraction in its simplest form?
Now, let's say I do this schedule for the 4 months of the year that have 30 days each (April, June, September, and November). What is the equation that shows the fraction of all the months I practice, combined? Please let me know when you have solved it, as I am curious to hear your answer!
Guess what? I also like to dance too! My favorite type of dance is Bollywood, and I have been a dancer since I was 10 years old in Class 5. Speaking of motion… my favorite subject in school is science—can you guess why?
I really like science class because we get to learn about our bodies and how they move. And that's exactly what I do with yoga and dance! I practice both of these activities at school and also when I get home. But a few months ago I noticed that I was starting to have trouble seeing in the evening, even during yoga and dance practices. I also had a hard time when I looked at something in the distance, no matter the time of day. When I looked in the mirror during dance class, it was difficult to see the facial expressions that are so important to the performance. When I looked at the blackboard at school, I could see only blurred letters.
Sometimes we don't realize that something is going on because it happens gradually rather than suddenly. What are some things from your own life that you notice happen slowly over time? How do you relate to that differently than something that happens quickly?
This was troubling to me, since I wasn't able to do the activities that I loved as well as I wanted to, and it made learning at school challenging. I could still do things even with my poor eyesight, but it was tough. I used to have to sit very close to the board and was always asking my teacher to make sure I didn't misspell the words. I would also have to hold test papers very close to my face so I could read them properly. My friends would complete their work before I did, since I always had to check with my teacher to make sure I was doing the right thing because I couldn't trust my eyes. I had to adapt my behavior because my eyesight had changed.
Can you tell me about a time when you faced a challenge and had to change the way you acted? How do you think it made me feel to always ask my teacher for help? What would you have done in my situation? Is there anything you think would make things better for you if you asked for assistance, but for some reason — maybe you're scared, or embarrassed, not feeling the confidence, or don't know whom to ask — you haven't?
I didn't know it at the time, but there were other students in my class who had trouble seeing too. But we never talked about it until we had our eye check-up. I knew that eyeglasses might be an option, and when I learned we were going to have an eye screening at school, I thought it might be helpful for me.
Can you think of a time when you thought you were the only person experiencing something? How did it make you feel?
Would you have felt differently if you knew others were experiencing the same thing? Why?
Did you know there are around 624,000,000 people who would have better eyesight if they had eyeglasses? In total, there are about 7,680,000,000 people in the world (source).
Can you write a fraction that shows the proportion of people who have poor eyesight and no eyeglasses, as compared to the total world population?
Do you think eye screenings, like the one at my school, help increase or decrease this fraction? Why?
And here's a BIG question if you're ready for it. It's going to require some research in one of the sources linked above! What is the impact of a pair of glasses? What are the different ways you can quantify that?
Now that I have eyeglasses, so much has improved! Let me think of some examples… well, I can follow along with the facial expressions and movements during dance practice again. I can see the blackboard clearly. I can sit straight during exams and keep my paper at the right distance. It feels great! I feel confidence in so many ways!
Learning Objectives
Students will learn about many topics, including: Fractions as division, Multiplying fractions and whole numbers, and Fractions.
(Lead your class in stretching exercises before starting this lesson about confidence — either look some up before class, or you can make up your own with your students! Or this breathing exercise.)
1

Start with BIG QUESTIONS about CONFIDENCE: "What does it mean to be 'confident'? What is confidence? How do we develop this in a healthy way?" You can start by brainstorming other words or phrases that students think of when they hear "confidence".
Some examples could be "positive," "courage," and "believe in yourself". You can also think of words that mean the opposite, such as "doubt," "fear," and "self-conscious". You can then ask, "Is confidence something that we're born with, or something we develop? What are some things that impact our own confidence?" You can discuss elements such as self-image, feedback from friends, parents, and teachers, and also what is valued in a society or shown as important in the media.
This can also be an opportunity to talk about what it means to be self-confident, rather than self-centered. "How can we tell the difference between a healthy view of ourselves, and being too prideful so that we think there is no room for improvement?"
2

DIVE DEEPER INTO CONFIDENCE: With your class, watch the video "I Am Taniya" and read the story "I Am Taniya". You can check reading comprehension by asking, "What made Taniya start to realize her eyesight was changing?" You can then discuss how Taniya's behavior and appearance changed as her eyesight changed.
Lead the reflection by asking, "Have you ever had a change in your life—maybe in your appearance (like Taniya's glasses), or in your ability, or a new experience, or what you thought about something—that affected your confidence?" Once students have shared some examples, you can unpack this further by prompting: "How did it make you feel? Did your feelings stay the same, or did they change over time? What else influenced how you felt about yourself?"
You can also brainstorm ways to help people develop and maintain self-confidence when facing a change, such as by writing them an encouraging note or expressing that you believe in them.
3

MATH INTEGRATION: Let's practice approaching math with confidence! Before doing the math challenges of multiplying fractions and whole numbers and fractions as division in the story "I Am Taniya," express to students that you believe in their ability to keep trying until they figure it out.
You can say, "A big part of developing self-confidence is believing in yourself and your abilities, and trying to improve as you grow and learn… even if it takes time." You can share the quote by social activist and writer Maya Angelou: "Do the best you can until you know better. Then when you know better, do better." Ask students to reflect on what this means about not giving up when learning school subjects such as math, and also how this mindset can help them build confidence in other aspects of their lives.
4

REFLECT TOGETHER: Lead your class in an activity to visually express our confidence. Students can start by drawing a picture of themselves in the middle of a piece of paper (or instead you can have them write their names). Then, they can write or illustrate different aspects of themselves that they are proud of. Encourage students to not only think of external things (such as their appearance or skills), but to try to focus on internal characteristics (like their personalities and how they express their values).
After students have created these confidence pictures, have them walk around the room and add to each other's creations. You can say, "Sometimes other people value things about us that we don't always see ourselves, so let's share and help each other build confidence!" If you would like, display these confidence images around the classroom and encourage students to add to them throughout the year, reminding them, "Confidence is something we are always developing, both for ourselves and to uplift others." What a way to remember confidence matters!
Keep Learning at Home :: CONFIDENCE JOURNALS
Encourage students to keep a confidence journal: a place for students to write down at least one thing they value about themselves and someone else each day. A way to build confidence. Tell students they can share the compliment they wrote about another person with them to help that person develop even more confidence, too!