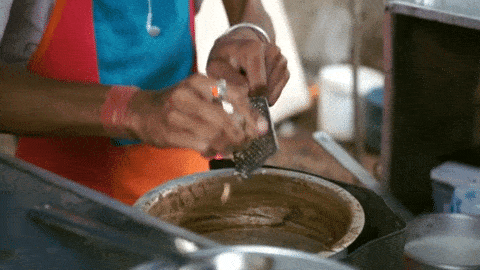 How To Make Chai :: Learn With Shantanu (Click "Lesson Plan" For Recipe)
Welcome to How To Make Chai :: Learn With Shantanu (Click "Lesson Plan" For Recipe) -- Global Social Emotional Learning (SEL) that's humanizing. Let's love learning for life.
Let's step into a unique human's mind, heart, perspectives, and story. Let's explore self, others, and our world in a humanizing way. Take a deep breath. Let's get started.
Click the "lesson plan" tab if you're looking for ideas on how to engage with this story on your own or in a group. If you're eager to start right away and want to create your own learning guide based on the narrative, click the "story" tab or play the video!
--
Notes for all of us to remember: this story is an introduction to who this human is. It would take years (even a lifetime of heartstorming!) to wholly understand this person, just like it takes us such a long time to begin to understand ourselves and one another.
As we watch the wordless video, let's suspend judgment and to practice curiosity and wonder. Let's recognize bias and challenge our assumptions. Let's explore how we might move beyond these assumptions together in a meaningful way.
As we explore the lesson plan, let's remember these are not instructions. This is a learning guide. You can adapt this for your situation, and reach out to us anytime for ideas, too. You can also follow it step by step, if you'd like. Though we believe learning happens in so many ways, and these lessons can be adapted so beautifully by you(th) to create a magical experience. If we adapt, let's just remember to keep the actual story content authentic. These are real humans we're learning about -- let's stay true to their stories.
As we enter the written story, let's remember that this person in the story is not representative of a whole culture or way of life -- learning means moving beyond generalizations and simple single stories. (More on this in the humanity & belonging unit!)
We've got to remember that this person is a unique individual with unique, complex, and beautiful experiences -- just like everyone in our own lives and classrooms! We've got to live with ubuntu.
Judgment and bias are both quick to get and hard to get rid of. And both are really boring!
But curiosity? Curiosity is magical.
Learning? Learning is forever.
Curiosity Before Judgment.
--
More Resources: Looking for a powerful learning guide for empathy and curiosity practice? Here is a version for early childhood learning. Here is a version for self-guided learning at any age. You can use the lesson plan above in the "lesson plan" tab, or you can try one of these lessons that work wonders for any of the stories on Better World Ed.
Looking for a math focused "all stories" learning guide? Or one on deep breathing? On listening to understand? On how to make chai? Head to your Members Hub for more magic !
Global Topic
Stuff, Consumption & Environment, Tea (Chai)
Literacy Topic
Comprehension, Communication & Collaboration
SEL Skill
Appreciating Diverse Perspectives & Ways Of Life, Mindfulness, Meditation, Wellbeing, Breathing, Recognizing & Managing Stress, Reflecting Mindfully, Self-Awareness
Social Studies
Community Engagement, Culture, Current Events, Ethnography, Geography, Global Connections, Sociology
How To Make Chai :: Learn With Shantanu (Click "Lesson Plan" For Recipe)
Hi! I'm Mindful Moo. Are you ready to learn how to make chai? Click the "Lesson Plan" tab and let's get brewing!
Curious to learn more about my friend who makes chai? Search Shantanu in the search bar above and start with any of his stories. He's an inspiring person. I think you'll love learning from him.
How To Make Chai :: Learn With Shantanu (Click "Lesson Plan" For Recipe)
Learning Objectives
Students will learn about many topics, including: Chai Equations
Want to pair your chai with some mindful breathing? For this recipe, we will make two cups of chai. Want more or less chai? Multiply or divide your ingredients up to achieve whatever chai goals you have!
1

GATHER YOUR INGREDIENTS: There are so many spices you can add, and this depends on you and your taste buds! For my chai, I use a stainless steel pot and these ingredients: black tea leaves, milk (or a dairy alternative), ginger, and sugar (or honey). You can also add cardamom, cloves, saffron, lemongrass, cinnamon, or really whatever tempts you to try out. 
2

LET'S GET BREWING:

Bring a little bit more than two cups of water to a boil. Add two heaping tablespoons of yummy black tea leaves into the water. If you like strong tea, add a third spoon. I make my tea strong, and then also add more milk.
Add your preferred spices. If you're using a spice blend, add in a small spoon of spice for each cup.
If you're using fresh ingredients, grate ginger directly into your pot. I use a lot of ginger (as you'll see in my video!), and how much you want depends on how spicy you want. It may take some experimenting to see what you prefer. If you're adding in other fresh spices, add these in now too. For whole spices, grind them first in a mixer or with a mortar and pestle.
3

BREATHE: While the tea leaves and the spices float around in the water, take some deep breaths if you feel called to do so. Breathe in the aromas coming from the pot.
After two or three minutes of the brewing and breathing, add in your milk or dairy alternative. If you want to measure, add somewhere between half a cup to a cup of milk. 
How much you add is up to you. I add my milk in slowly until the tea reaches a light brown color. If you're wondering what color I mean, look at the video above!
If you are making a stronger tea (if you added more tea leaves), you'll likely want a bit more milk.
If you're adding sugar (I do!), add in as much as you like. If this is your first time making chai, maybe you can try 1-2 teaspoons of sugar per cup of tea that you're making. I make my chai extra strong and with extra ginger, so I also add more sugar too. 
4

STRETCH & CHAI: Bring everything back to a boil. This part is fun, because if you're not paying attention, all that tea you've been working so hard to make might come flying up and out of your pot.
As your tea comes back to a boil (if your milk is coming from your fridge, it might take a couple minutes), get ready to turn down the heat as you notice the chai boiling.
Once it comes back to a boil, reduce the heat to a point where the chai is still simmering and rolling around. We want enough heat to keep things moving around, and not too much so it doesn't come bubbling out of your pot. 
Once we turn the heat down, we have a safety net now to do some stretching and laughing, if you'd like. I often do this. After a few minutes of simmering and stretching, it's CHAI TIME.
Find your favorite strainer, your favorite mug (maybe mindful moo?), and pour your magical chai. Need more sugar? It's never too late to add more in! 
KEEP THE LEARNING JOURNEY GOING
Wondering what to do while you sip your chai? Looking for ideas? You could do some more breathing! Focus on the steam and the yummy smells! Or you could learn about me and some of my story (search "Shantanu" in the search bar above)!
You could sit with people you care about and discuss life, like I often do!
You could laugh? You could be? You could go on a global learning journey to Be WE?