Inspiring Teacher Story: Julian Cortes On Giving Kids A Space To Feel Loved
Hear from Julian Cortes, a 5th Grade Teacher in Redmond, WA. Learn about his perspectives on Better World Ed stories and how they've had an impact on him and on his students. What an inspiring teacher story!
Tags
Story, Teacher Story, Teaching Inspiration
Browse Related Articles and Resources
Inspiring Teacher Story: Julian Cortes On Giving Kids A Space To Feel Loved
I teach to change the world. I believe we can through teaching and it all starts with Empathy." – Julian Cortes
What led Julian Cortes to become a teacher
As a student, it was a challenging adjustment when I first moved to the United States. Learning a second language was difficult and trying to balance the cultural differences was hard. However, my teachers helped this transition. Particularly my first teacher who held her arms out wide welcoming me to the class on my first day at my new school. Like most students, I had some great teachers and some not so great teachers. I wanted to improve the educational experience for other students and make sure they were receiving a quality education regardless of their background, so I decided to go to college to become a teacher.
My principal, Michael Clark, at Norman Rockwell Elementary school was approached by a friend who is a filmmaker who shared the Better World Ed website with him. Mr. Clark, knowing how much I care about providing social emotional learning and cultural learning experiences, shared the resource with me and asked me to check it out. We both loved Better World Ed's mission and the content being produced. I couldn't wait to try it out in my classroom!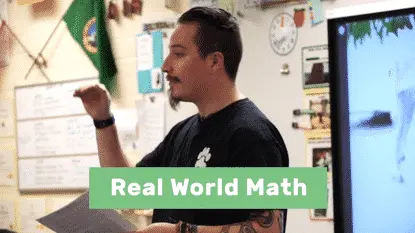 Julian's experience teaching with Better World Ed stories
I absolutely love teaching these lessons! I enjoy being able to share stories of a real person with my students and watching them engage with the material. My students are very enthusiastic about the experience and participate in meaningful conversations with each other. Students shared they learned about the importance of empathy and kindness. Students also said that they liked learning about a real person's story and getting to watch a video and read about them.
From the experience, I gained an understanding of some misconceptions or assumptions my students make about the world outside our school. I was able to see that while my students are very caring and thoughtful, they still make assumptions which often fall into stereotypical assumptions about people. This was different from my regular classes because I felt it truly challenged students to think about the world and see it through new eyes.
I also think it is different in that it challenges us (students and teachers alike) to put ourselves in someone else's shoes and see life from their perspective. In a world where intolerance and hatred seem to be increasing each day, we NEED lessons like these to teach students to care for others, be kind, and show empathy to the world. These lessons definitely open the minds and hearts of students and teachers.
Why does Julian Cortes think these types of lessons are important for students?
I feel that these lessons give kids very intentional opportunities to learn about the world in a safe and non-judgmental environment. My kids have shifted their way of thinking and questioning as a result of these lessons. They are more kind and care about the world around them. Kindness and empathy are now daily topics for us!
How has Better World Ed impacted Julian's students?
This experience has impacted my students in a very positive way. All students feel successful while doing the lessons and I've noticed all students are willing to share their thoughts and ideas. One specific example is one of my more challenging students is now one of the kindest and most caring people I know. He has shared with me how good he feels after doing the lessons and how he feels inspired to do good in the world!
"These lessons just keep on amazing me! The power of connecting to people around the world is huge and kids are becoming kinder and showing more empathy outside of these lessons."
Julian Cortes' advice for Better World Educators
SEL is not one more thing, it's not supplemental, it's a crucial thing that kids need to have lessons on before any content.

If timing in your schedule is an issue then maybe try to reprioritize. Also, remember that it doesn't have to be an hour chunk of time, it can be whatever amount of time you have like 10 minutes to show the video and have a quick discussion.

The most important thing to remember is that students will learn so much better if they feel loved and safe. We can provide that to them with unique learning experiences.
"I wholeheartedly believe in the power of empathy and connection to others! I have experienced first-hand how meaningful it can be to teach students through real-world examples."
Inspiring Teacher Story: Julian Cortes On Giving Kids A Space To Feel Loved
Watch Julian Cortes and his students in action together in this inspiring teacher story and lesson